SeXy Top Cops of Port Charles
Last updated on January 21, 2000
Detective Alex Garcia and Marcus Taggert are PC's SeXy cops!
Rčal Andrews, the actor who plays Marcus Taggert, most commonly referred to as just Taggert, is *the* hottest cop ever in Port Charles.

Taggert has been known to get his groove on with the lovely Dara Jensen. Lately though Taggert has been concerned only with police business. And as always he's always on the trail of mobsters Sonny Corinthos & Jason Morgan.

In the list of links below you will find some cool pics of Marcus Taggert. They are classified as ~Hot~ ~Yummy~ and ~SeXy~! Currently you can catch more of the ~hot~ Garcia on General Hospital's sister show Port Charles.
Check out my Message Board!
Read & Post Messages in the BoardRoom
---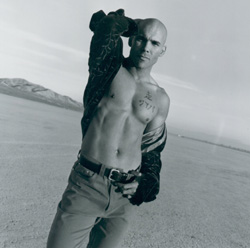 SeXy!! SeXy!! SeXy!!
---
To use the Quick Navigator, click on the box and choose your destination!
MOBSTERS OF GH
LINKS!LINKS!LINKS! updated 6/27/99
JOIN the Rčal Fan Club for only $9.99/yr.



---
You are the
Taggert and Garcia junkie to visit this site
---
This site is maintained by JAYCIE